Get a Quote For Your Project
Welcome to SAMAN Portable Office Solutions
SAMAN Portable Office Solutions is a fast growing manufacturing company based in Bangalore. SAMAN, as manufacture of container has a plan to transforming a scrap and old containers into an amazing look for offices so it should be considered container office as the standard level products. SAMAN gains popularity to all clients by fulfilling their urgent requirement instantly and cost effectively due to nice architectural designs of its products. In the era of modern, every individual is busy. Everyone is looking for proven and effective ways to cut the project cost and time too.In the competitive world, each individual does researches and analyzes through internet before purchasing any products. They always look cheap and the best products in all aspects like price, quality and durability. Therefore, SAMAN Portable Office Solutions and its team keep eyes open to those things during manufacturing of all products like portable cabins, porta cabins, container office, portable toilets security cabins and another products.
Porta cabins, office cabins and container offices are such product where you are able to save the both time and 30 to 40% bugs for sure. So what are you waiting for? Just dial us and do let us know your requirements, Our expert will get back to you with end-to-end solutions in no time because our solutions are portable. SAMAN always looks for all possible ways and puts its best efforts to reduce your project's budget. Porta cabins and container offices are most convenient products due to mobility and multi-purpose usability.
Portable Cabins are the most suitable products
The biggest challenges and expenses in building are changing climates, materials and hardware respectively. You must be active and creative in when you start producing, how and where you get good quality stuffs, the effective tools, and the equipment needed to build your porta cabins.
SAMAN has the best mechanism, proper systems and proven ways of manufacturing products in place. Our team take care of each aspects and all perimeters to meet the client's expectations because we all times want to retain all our existing clients by providing satisfactory services and quality products. As results, SAMAN has won the trusts of the customers. Due to goodwill, SAMAN has serves and meets 50% requirements among the compettitors in the market. We have quality assurance and quality check team into forces that differentiate us from our competitors. Since we always do what we say, grab the attentions of customers and became leader and manufacturer of portable cabins, porta cabins, container office, portable storage, container storage,portable toilets and security cabins etc.  Since we have different product range, so let us know how much you will spend to build your own container office, we can customize your requirement nicely and bring it within your estimated budget perfectly. There is a  big gap in price between producing cabins  on for temporary projects either shot-terms or long-terms  compared to building it permanently .
Click Here
About SAMAN Portable Office Solutions
SAMAN established as one of the eminent manufacturers, suppliers, solution and service provider of a vast range of our products like customized portable cabins, porta cabins, office cabins, container office and bunkhouses that are easy to move, lift, shift and install. We also offer reliable services in installation of these portable cabins, office cabins and container office after the purchase.
Being a member of SAMAN Portable Office Solutions, we enjoy with the reputation we have gained right across the country not only for the temporary portable cabins, office and container office we provide, but also how we supply them and for what cost. A variety of industries from the private to public sectors have come back to us time and again to seek our help as specialists in manufacturing of porta cabins, portable cabins, office cabins and container office because our solutions are portable and we understand our client's requirements. We always fulfill them with enthusiastic and deliver them on time.
Why SAMAN Portable Office Solutions
Since SAMAN Portable Office Solutions has the best skilled and experience resources, it can instantly customize an individual's portable cabins as per his requirement with best quality and look. SAMAN transforms and manufactures the best architectural porta cabins with help of the latest techniques and ISO certified raw materials with mass equipment, green work space, expertise, trained and experienced workforce:
Reliable, quality assurance and skilled workforce in producing porta cabins, portable cabins, security cabins and portable toilets.
Immense skilled resources who apply new methods and use the best practices while manufacturing the products like container office, security cabins and mobile toilets.
Proper follow up without fail and assuring 100% quality in the procedure of manufacturing our products due to quality control being into place.
Quick and fast deliveries with the quality and compatible prices in the market.
We always take care of what we committed to clients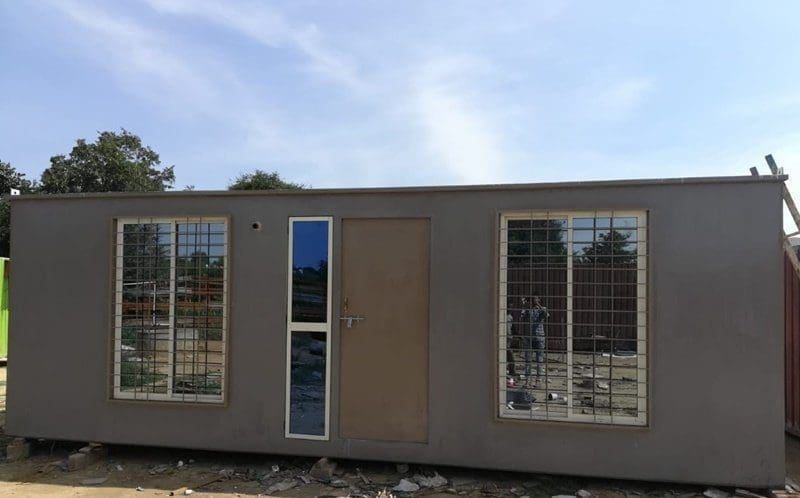 Portable Cabins are most prominent product in prefabrication industry. It has many features like easily transportable to your site location. All entrepreneurs considers portable cabins most convenient and price competitive products. A manufacturer can customize a cabin as per your your requirement and for immediate use. It is very comfortable in use. SAMAN uses international techniques in order to make them spacious and strong.
Looking for manufacturer of Porta Cabins in India? Contact SAMAN Portable Office Solutions because it provides a complete justification to its customers by providing transferable, multipurpose and robust cabins that can be transformed into any shape and size as per the demand. All entities from different sectors consider porta cabins a great solution and cost effective products for short-term or long-term engagement for the projects.
All industries prefer container office to traditional buildings and permanent structures due to high strength and low maintenance. When you need container office for your business and commercial purposes, you require only contacting SAMAN. They are expert technicians with a big team of craftsmen to supply you pre-fabricated premises instantly, and fit it on the location wherever you want – be it a hill-station.
In my opinion, Portable Toilets are integrated part of any ongoing construction project. Portable Toilets save construction workers from roaming outside of the construction site to use the bathroom. Having portable toilets at the projects increases productivity because workers won't go outside of the project. As a result, they save the times. This leads to increase productivity. It shows respect for workers also by keeping toilets on the site.
Do you want to run a hotel business at the seaside, historical places and tourist place? You may consider hotel in the bunkhouse the best and economical option. Since tourists look for cheap and best accommodation at those places, hotel in the bunkhouse meets this criteria easily. We have bunkhouse to cater for them all. Uniquely bunkhouses are the ideal place and to stay with a group at the best rates. Therefore it has huge demands in the market.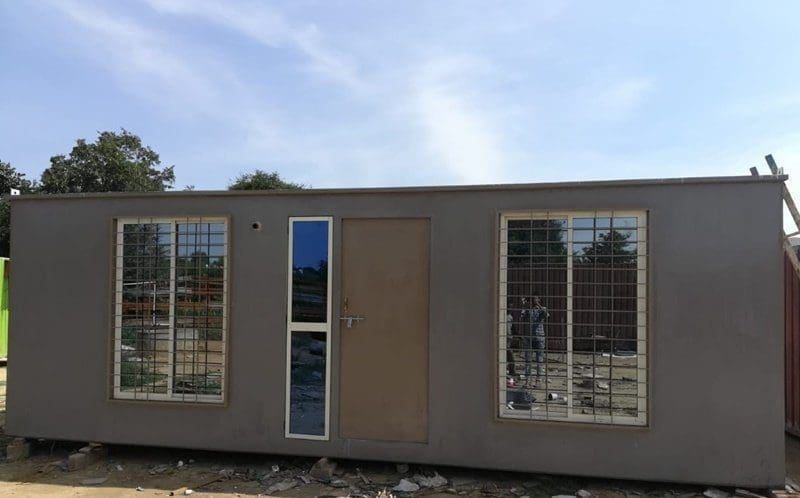 Are you searching for something price compatible to secure the materials on ongoing projects? Security Cabins are most convenient and price affordable products. SAMAN manufactures very well design security cabins. This cabin is highly demanded in both, residential and commercial sector for making rooms for guards. These cabins are fitted with water proof doors and windows. If you are looking for it, Contact SAMAN.
Advantages of Portable Cabins over Permanent Installation. In today's dynamic business environment, portability of office items is gaining more popularity than a permanent installation. We are all witnesses of the fact that many day-to-day usage things are shrinking in size and becoming more portable in nature. SAMAN is doing best job towards it. I have recently visited SAMAN factory and purchased one portable cabin. Its very good interior finishing and product line is extremely good. Superb job done by SAMAN and its employees.
Alok Raj
I love this type office. It's very cost effective and meet requirement on time. Especially porta cabin. Saman portable is now growing rapidly due to goodwill and customer satisfaction. Now days, portable structure getting more popularity and has high demand in the market. So all industries gradually are moving to portable temporary structure for the temporary projects and Saman portable office solutions is playing bigger role to meet the requirements and have take one portable office and its exellentI have purchased one product and it was a same as committed by saman. Fantastic job
Arun Kumar
Bangalore Metro
One of high budget projects is Bangalore metro project in Karnataka. Since it is very close to our manufacturing unit. Due to our best service, we got many businesses from Simplex Infrastructure. We have completed all projects instantly within time frame and deliver on time.
Tumkur Irrigation Projects
One of the most important projects is Tumkur irrigation projects for farmer. We have supplied Porta cabins and Office Cabins. We always work to save project. As result, we have bunch of projects
Sunrise Projects
One of the biggest residential projects built by Prestige Group. Since we are committed to cut project's cost, Client chose us to manufacture site office and labor colony. Due our goodwill, we go 2nd order from prestige group and supplied all cabins time time as per clients requirement.
Intel Projects
Intel is an IT company. It has many branches across the city. Since , company has some more project, he expend new infrastructure in near by Belundur  Gate. For site staffs, they have taken portable cabins from us. It was a nice experience to work for Intel.
KNK Projects
Since portable cabins are very convenient and cost effective for short term projects. Container office or Pora cabins are better than traditional buildings and permanent structure. As a result, construction industries are slowly start moving toward office cabins to us on construction site and  KNK of them
Fern Projects
Due to the unique techniques, Prestige awarded with job. We do not compromise with quality. We have deliver cabins instantly on the time frame set by Clients. As results, client was happy. He awarded with certificate of best portable cabins manufacturer due to quality assurance
SAMAN Portable Office Solutions
Our Solutions that are portable
Sy No 54/2 Dommasandra village Muthanalluru Cross, Near ABR Sport, Chandapura Dommasandra Road, Dommasandra, Bengaluru, Karnataka 562125